As a business owner, selecting the right E-Commerce platform that suits your needs and desires is essential to your success.
This blog will display a detail assessment of Shopify and WooCommerce. The purpose is to highlight their pros and cons to help you make the right choice.
Shopify powers over 800,000 online stores, even as WooCommerce claims it's the web's leading famous eCommerce platform – so who comes out on top?
For us, Shopify is our preferred choice since it's user-friendly, practical, reliable, and smooth to use, besides it provides a variety of customisable templates and not to mention fantastic consumer support given by it.
While WooCommerce is a good eCommerce plugin that turns any WordPress web website into an effective online store and is likewise an open-supply platform – making it easy to install.
Over the following assessment, we'll assist you in determining which of these household names will be the right option for your business. So buckle up your seatbelts, and let's begin!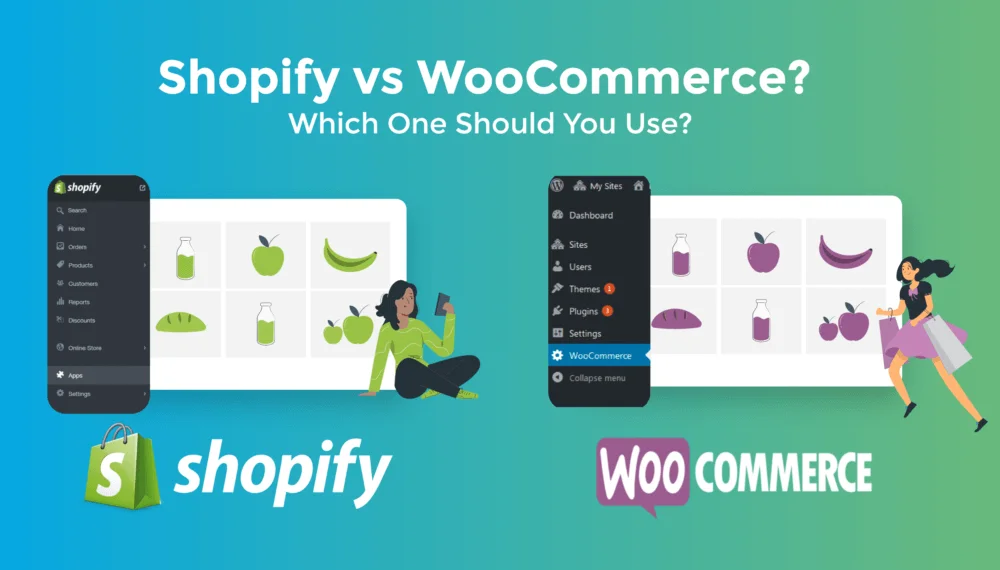 Shopify was founded in 2006 by Tobias Lutke and Scott after attempting to snowdevil, an online store for snowboarding equipment. They made their place in the market quickly. In 2009, they created their application programming interface and in 2010 launched their app on apple store as well. Around 1.7 million companies use Shopify and around the globe 175 countries are served Shopify app. Shopify is one of the platform used by liquid retailers to manage their online stores. The logo of Shopify is simple yet recognizable. The logo gives a sense of trust , security and looks very professional as well.
Woo commerce was officially launched in 2011 but its actual founding year is 2008 as woothemes by Matt Mullenweg and in 2017 decided to focus exclusively on e-commerce. It is a free, open source plugin for wordpress which dominates the market. It is a remote company whose 3 founders are from Norway, south Africa and United kingdom. It has a team of more than 150 members, which is in 32 countries. It has been translated into more than 50 languages. It has been powering more than 30% online stores.
What do you prefer: WooCommerce or Shopify?
Shopify and WooCommerce are both e-commerce platforms that can be used to build your online store, but again you will find that they are different in many aspects like:
Flexibility
Ease to use
Popularity
Payment strategy
One which can be used with WordPress
Drop-shipping
Cost to start
Marketing and ads
Design and Themes
Search Engine Optimization
Support and custom protection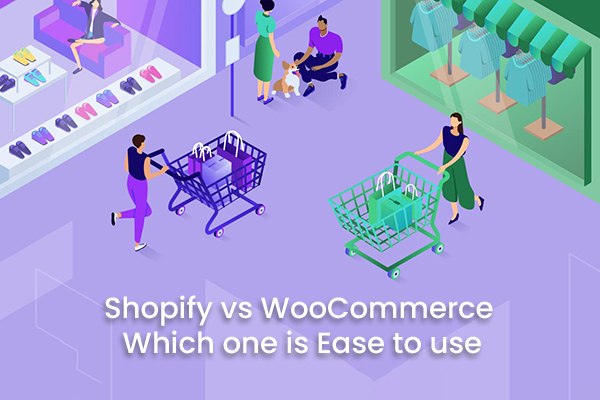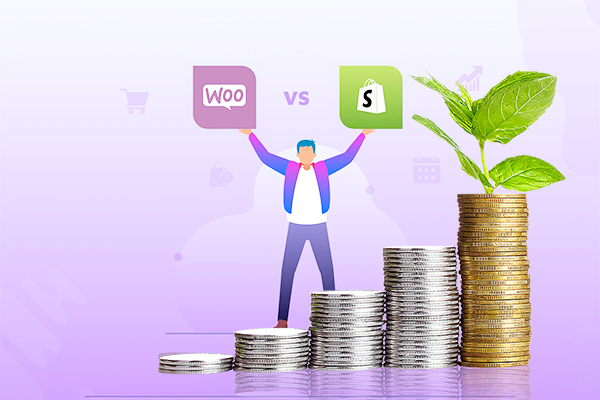 1) Woocommerce Vs Shopify: Flexibility
Shopify has fixed prices, while WooCommerce is more flexible. Its cost ranges from $29 to $299 per month, depending on the plan which is suitable for you,from Shopify Starter to Advanced Shopify. Woo-commerce costs you around $10 to $200 dollars depending if its basic one or with additional features.
Shopify is a completely hosted platform, so there's no need to install, manipulate, or replace any software. When it comes to security, performance, backups, and compatibility issues, you are rest assured.
After signing up, you can choose a layout from the free Shopify themes available. Then you go through a customisation process and start adding projects. Shopify guides you through the whole process.
Shopify comes with an intuitive drag and drop interface, so managing your product pages, sales, and stock on Shopify is a piece of cake.
One drawback of this guided, polished, and specially optimised is that it limits your manipulation by being limited to the layout and improvement equipment furnished with Shopify or accessories to be acquired in their marketplace.
However, this isn't as awful as it sounds. For most users, the massive choice of extensions and topics offered by Shopify is sufficient to get started and develop your online store.
While WooCommerce isn't a hosted platform like Shopify, you must put in the WooCommerce plugin, manipulate updates, maintain backups, and ensure that your internet site is secure. There are lots of unfastened and paid plugins which can automate most of these responsibilities for you.
WooCommerce is notably bendy when it comes to customisations. You have complete manipulation of the entire platform, and you can upload any conceivable functionality for your internet site with the assistance of more than 59,000+ WordPress plugins.
However, there's no integrated drag & drop layout builder. Instead, you can use one of the WordPress web page developers like SeedProd or Beaver Builder. However, it provides for your cost.
The largest drawback of the power is that it comes with a mastering curve and calls for extra hands-on control of your internet site. You additionally should sign up for a service provider account or comparable carrier like Stripe / PayPal.
While the WooCommerce guided setup wizard is helpful, it does now no longer come near the onboarding enjoy and simplicity of use of Shopify.
2) Shopify vs Woocommerce Which one is Ease to use:
Shopify and WooCommerce are effective structures to begin your eCommerce store. However, it comes right down to your personnel capabilities and preferences.
It is found in a study that out of the top 1 million e-commerce websites, 21% of these sites use Shopify and 27% use Woo-commerce.Shopify is easier to use, it doesn't require you to put in anything, and you can start immediately. It has 14 days free trial period as well, for you to understand everything about it.
WooCommerce is a much more technical platform, requiring a certain degree of know-how to apply or a willingness to spend time mastering it. It is not a hosted platform, you need to make your domain name on wordpress, manage updates, keep backup and secure your store. In contrast, Shopify is accessible to everyone without qualification or technical knowledge.
There's no doubt that WooCommerce has a steeper learning curve than Shopify, and from our experience, Shopify is simply simpler to become familiar with for a 'regular' consumer.
And don't simply take our word for it. We have testimonies from users of the platform:
"Once you get acquainted with Shopify, it's far surprisingly clean to amend any of the factors at the page."

"If you're a person seeking to promote an excessive quantity of merchandise and isn't fussed about having all of the layout control – Shopify could be a great option."
Shopify is a hosted E-Commerce platform that takes care of all the technical aspects of building and managing a store. From your area call and hosting (wherein your web webpage resides online) to any safety (SSL) certificates, Shopify has you covered.
In addition, with Shopify, you don't ought to install, manage, or replace any software. No need to fear approximately safety or backups, either.
Shopify is very clean to apply and is constructed to assist the non-technical consumer in creating an exceptional store. While, Woo-commerce is for technical and professional web developers.
3) Woocommerce vs Shopify which one is more Popular
WooCommerce is the most famous eCommerce platform (sure even more than Shopify) said in a study. Another study shows a table of popularity of both websites on different websites.
WooCommerce vs Shopify marketplace share:
When we look at the marketplace, WooCommerce is notably more famous. It is used on over 5 million stay websites, while Shopify powers over 3 million websites.
Looking at Google analytics for the past five years, we can see that Shopify has continually attracted more customers than WooCommerce. But, interestingly, Shopify got a surge in users in 2020:
4) Woocommerce vs Shopify Which one can be used with WordPress?
With WooCommerce, you will need a WordPress website if you do not already have one. You'll also need website hosting and a website name. Unfortunately, it's miles from the general exceptional WordPress eCommerce plugin on the market.
WooCommerce is a loose plugin. Shall we switch a WordPress website into an eCommerce store? WooCommerce is adaptable to the functions of WordPress. You could have a WordPress eCommerce website with products, a buying cart, and checkout options. We've addressed how WooCommerce works. Let's check the setup process.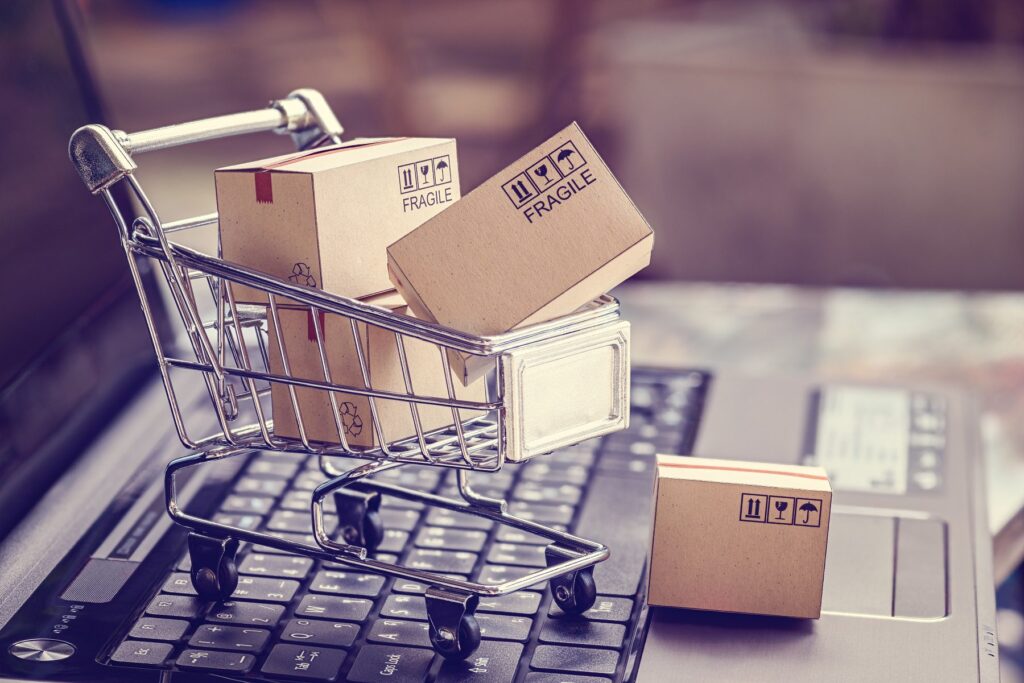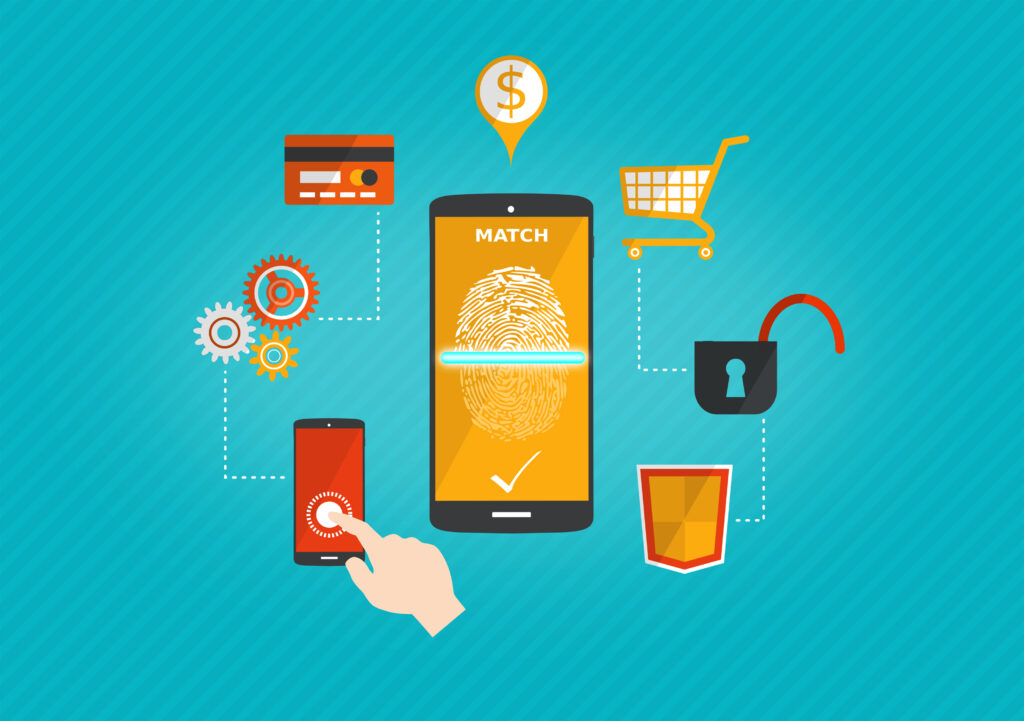 5) Shopify vs Woocommerce: Cost to start
Shopify makes it incredibly easy to create your online store. Their basic plan begins at $29 consistent monthly, and you may upgrade to the Shopify plan for 79$ or the Advanced Shopify plan for $299.
Each of those plans comes with SSL certificates and internet hosting. In addition, it includes a Shopify branded subdomain (e.g. https://your-save.myshopify.com). If you need to apply your own .com area call, then you'll have to buy it separately. Pricing for a regular .com area call starts typically off at $14/year.
The basic Shopify plan has sufficient functionalities to install a brand new online store. In addition, you can upload limitless products, two consumer accounts, limitless record storage, and much more.
However, this pricing doesn't encompass third-birthday celebration equipment and accessories. So you'll want to take your Shopify to save to the next level. As your commercial business grows, those expenses will increase, and you'll quickly be paying lots greater than the basic plan.
Woo-commerce is open source and available as plugin free. But you will require a domain name, SSL certificate and wordpress account to start a store on Woo-commerce. A domain name costs around $14.99, a SSL certificate costs $69.99 and web hosting costs 7.99 per month.
Bluehost, an official host provider offers to give our users free domain name, SSl certificate and discount on web hosting and reducing the price upto 2.75 per month.
It does not charge you a percentage of fee on your transaction which is an advantage of using Woo-commerce. It gives you free alternatives to premium themes and paid extensions.
6) Woocommerce Vs Shopify which is better for Marketing and Ads?
This is where advertising and marketing come in to boost your income, attract new clients, and showcase your merchandise to a larger audience. So let's see which one has better advertising and marketing gear.
Paid multichannel promoting (simplest Facebook integration is freed from rate).
Paid email advertising and marketing integrations. 
Multichannel promoting on all structures, free from charge.
Shopify offers an outstanding form of advertising and marketing functions in all of its plans.
Free email advertising and marketing
The functionalities difference
Just as with income functions, WooCommerce is based on paid plugins on the subject of advertising and marketing gear; the win goes to Shopify.
Multichannel promoting: With each structure, you may promote your merchandise on Amazon and eBay, in addition to social media structures along with Instagram, Pinterest, and Facebook. However, Shopify won't charge you for integrating your stay with them, whilst WooCommerce would require you to pay for every one of them, which costs around $80 (except Facebook, that's free).
Email advertising and marketing campaigns: Shopify has released its own e-mail advertising and marketing device. It's additionally smoother to combine with Seguno, Constant Contact, or Sendinblue. WooCommerce, on the other hand, gives integration with Mailchimp, a famous e-mail advertising and marketing device.
Where does Shopify beat WooCommerce?
Shopify offers extra advertising and marketing options as a part of their plan at no cost. WooCommerce offers Facebook and Mailchimp integrations free of charge. However, you want to pay to get entry to the relaxation of the top-high-satisfactory structures.
Shopify's e-mail advertising and marketing device lets you ship as many as 2.5k emails at no cost,, after which they charge you $1 for every 1,000 emails sent.
7) Shopify vs Woocommerce: Design and Themes
Which has a higher choice of stylishly-designed topics?
Shopify has a higher range of layout and designs, so it wins this round. Its templates are sleeker and more polished than those on WooCommerce, and you may use code to personalise your Shopify templates.
WooCommerce gives countless customisation, however, its templates need work from scratch.
Both WooCommerce and Shopify's fashionable templates deliver the desired appearance and feel. Looks are essential in the internet world!
Shopify's subject keep has over 70 loose and paid templates to select from. It consists of a variety of over 100. Shopify's templates are very polished – because it's a specialised eCommerce platform, they're designed to help you sell.
Premium templates start from $140. While this will appear expensive, it's a one-off charge you must pay to fund. It allows you to generate extra revenue, paying for itself,, and in case you have a reasonable budget, there are lots of loose templates to start with.
WooCommerce's access subject, Storefront, is responsive on cellular devices. It additionally comes with a smooth and sparkling layout. Of course, how exact your layout appears on WooCommerce relies on the hours you're willing to place in and your technical level. With designers growing new topics for WooCommerce, the sky feels like the limit. ThemeForest, for instance, has over 1,000 precise eCommerce templates.
While the breadth of WooCommerce is fantastic, Shopify's supply ismore curated. The Shopify creators have taken the time to pick the themes which are going to be that are nice to keep.
Remember, deciding on a splendid subject is the most effective part of the WooCommerce vs Shopify battle.
WooCommerce is an open-supply software, which is predicated on plugins for almost all of its features. Unsurprisingly, that is why WooCommerce does so properly in this section.
8) Woocommerce Vs Shopify: Which is good for Search Engine Optimization
Each platform has it's own advantages of running the net eCommerce smoothly. To examine each option, right here, we're bringing up the professionals cons and pros of WooCommerce and Shopify from a search engine optimisation perspective:
Shopify Pros for search engine optimization
Fast load time 
Includes SSL certificates 
Built-in cell optimization 
Search engine optimization
Shopify Cons for search engine optimization
Site Control 
Shopify is Costly 
Search engine optimization-Optimized code 
WooCommerce Pros for search engine optimization
Search engine-pleasant URLs 
Wide variety of search engine optimization plugins 
Rich snippet assist 
Robust running a blog assist  
WooCommerce cons for search engine optimization
More guide search engine optimization configurations required 
Not regularly optimized for CSS and theme coding
Slower web website online speed 
9) Shopify vs Woocommerce: Support and custom protection
When you're using a software program tool, it's far natural to stumble upon problems on an ordinary basis. What makes the distinction is how you're capable of solving rather quickly.
Let's see how WooCommerce vs Shopify compare in support.
WooCommerce is essentially a DIY tool, since it's a loose tool, you could search for help on the WordPress discussion board and WooCommerce professional site by just logging in. You can find businesses supplying committed help for WooCommerce customers. Moreover, in case you use outside plugins, you could get help from developers. Social media boards associated with WooCommerce also are pretty active
Overall, in case you choose to look for answers for your issues yourself, and the customization alternatives are outstanding too. People with coding expertise can do plenty of WooCommerce customization on their own.
If you're searching for WooCommerce help, protection or customization, you can find a few dependable assets here.
Shopify is committed help for its customers 24/7. Users can get in touch with them through phone, electronic mail or chat whenever they face an issue. On top of that, there's a tremendous expertise base and sizable documentation to assist with self-service.
It means the merchants don't need to keep the stock in hand and drop-shipping is an order fulfilment. Whenever the consumer wants a product, the retailer will purchase from supplier and directly get it delivered. Drop-shipping is really popular these days.
Woo-commerce is economical than Shopify when the sales are increasing and you need to pay more transaction fee and a better choice if you have a long term business but Shopify is economical for short term businesses in comparison to woo-commerce.
When it comes to the pricing of drop-shipping then Woo-commerce is the affordable one.The hosting plan for it is 10 dollars and the hosting plan for Shopify is 29 dollars. For eg- If you have 3 different stores on basis of drop-shipping business then Woo-commerce in total will charge you 30 dollars but Shopify will cost you 87 dollars.
In Woo-commerce they need to pay for plugins that instantly support import products, complete orders from website etc. Most of the apps share the same function, yet Dropshipme stands out from the crowd with 8000 active installations.
Shopify has many integrations apps for drop-shipping market. The most recognised ones among all are these two Dropified and Oberlo. You will benefit a lot from Shopify`s robust features for your drop-shipping business.
11) Shopify vs Woocommerce Payment Strategy:
WooCommerce has more fee alternatives and transaction fees. However, unless you operate Shopify Payments, you will pay a surplus on Shopify, which offers WooCommerce the edge – making it the better choice for shops promoting large quantities.
Woo commerce has default payment to paypal and stripe. It also offers more famous payment service providers. It has support for many regional and less popular service for payment gateways. There is no entry barrier, thus any payment company can support and adds on for Woo-commerce.
Shopify gives you a variety to choose your payment method but has a transaction fee from 0.5 to 2% depending on the monthly plan chosen by you. The higher the plan, the lower the transaction fee and vica versa. It has its own payment processor as well which is free and straightforward. In this way, your finance will directly be synced with your inventory and sales. This payment gateway, also allows users to checkout from the button- Shop-pay. It allows you to use specific price for per country, per product and per region
WooCommerce and Shopify Industry Statistics:
WooCommerce is the most popular eCommerce plugin for WordPress. It is used by 3.5% of all websites, that is 11.5% of all WordPress sites. That makes it more popular than stand-alone e-commerce systems such as Magento (1.1%), Shopify (1.0%) and PrestaShop (0.6%).
WooCommerce has 27561 and Shopify has 7114 users in the IT and Technology Industry. 
WooCommerce has 17029 and Shopify has 7766 users in the Food and Beverage Industry.
WooCommerce has 16857 and Shopify has 4286 users in the Healthcare Industry.
WooCommerce has 13895 and Shopify has 5727 users in the E-commerce and shopping Industry.
WooCommerce has 12936 and Shopify has 5614 users in the Home and Garden Industry.
WooCommerce has 18738 and Shopify has 30252 users in the Lifestyle Industry.
The end result is so close you could believe that there are lots of eventualities taht makes WooCommerce has a bigger advantage.
If you're torn on what to choose WooCommerce or Shopify, let's do a quick recap:
Shopify: If you need to get a website faster, Shopify combines effective eCommerce functionalities with a clean setup process. It calls for nearly no professional technical knowledge, however that comes at a cost — you don't own the platform and need to pay a fee on each sale.
WooCommerce: This plugin can remodel a present WordPress internet site right into an effective eCommerce platform. With a large network of plugins, extensions, and themes, WooCommerce guarantees to offer you entire manipulation over your eCommerce store.
What do you think which ecommerce platform is your favourite a Woocommerce or Shopify? Comment below. All the best !